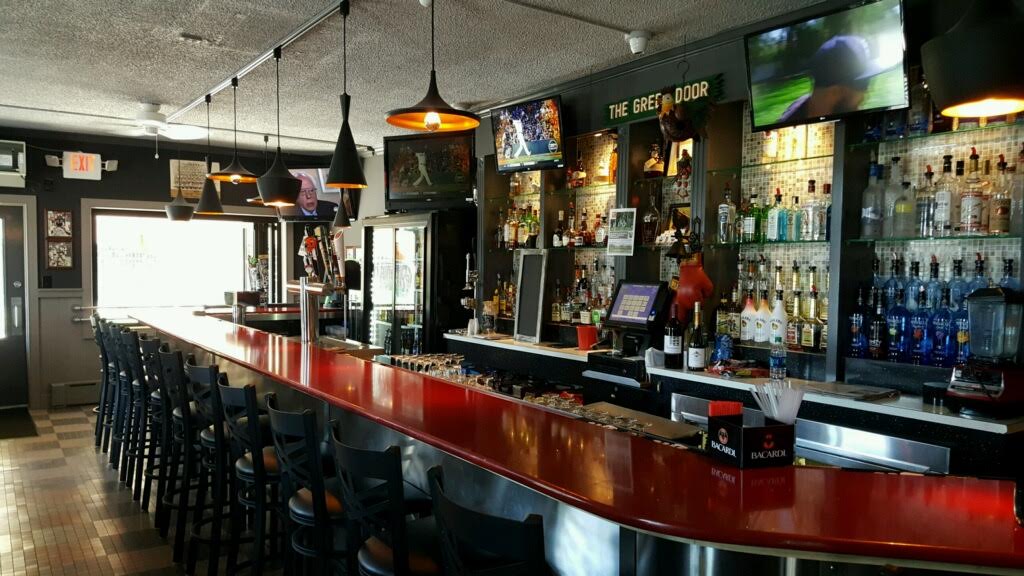 The best bar in the west end of Allentown
Ringers Roost is a favorite neighborhood bar, conveniently located in Allentown.
The original building, built in 1920, was a gas station. It became the Green Door Hotel in the early Sixties. Owned by Brighton Diefenderfer, the former Mayor of Allentown , Carl Ringer purchased the building in 1968, and ten years later sold it to Donald Ringer who changed the name to Ringers Roost. As they say, the rest is history…
$

5.95
Homemade Chips w/ Salsa
$

9.95
Nacho Grande
Lettuce, black olives, tomatoes, green onions, sour cream and jalapeno peppers with choice of refried beans, chili, chicken or beef
Add Salsa $1.25
Small $6.95
RR
$

9.00
Chicken Fingers & Fries
Choice of dipping sauce
$

5.50
Homemade Pierogies
Deep fried or sauteed
$

9.95
Crab Stuffed Mushrooms
Lump crab, broiled to perfection
$

13.00
Tuna Tartar
Fresh ahi tuna, lemon Asian sauce, homemade guacamole
$

11.95
Calamari
Lightly breaded & served with marinara & lemon herb aioli
$

8.95
Szechaun Shrimp & Pork Dumplings
Steamed or pan fried, Thai chili sauce
$

10.95
Napoleon WonTons
Lump crab, carrot, scallion, red bell pepper, guacamole stacked on fried wontons with Thai chili sauce & Tequila lime sauce
$

6.95
Three Amigos
Choice of chicken, beef or bean, lettuce, tomato, cheese & choice of hard or soft shell, salsa
Add Sour Cream $.50
Add Guacamole $1.95
$

8.95
Veggie Quesadilla
Grilled flour tortilla, fresh vegetables & smoked Gouda cheese, egg plant salsa
$

9.95
Chipotle BBQ Meatballs
House-made meatballs over smoked Gouda cheese sauce & tomato
$

9.95
Lamb Sliders
Grilled lamb patty, Brioche roll, Tzatziki sauce
$

11.95
Shrimp Pizza
Garlic sauteed shrimp, tomato basil mozzarella, baked pita
$

8.99
Wings
Mild, Hot, Suicide, Sweet and Sweaty, BBQ, Honey BBQ, Chipotle BBQ, Honey Mustard, Parmesan Peppercorn, Garlic Butter Or Honey Mustard
10 for $11.99 / 20 for $20.99 / 30 for $25.99
Your choice of Bleu Cheese or Ranch & Celery
Salads & Soups
Add meat or seafood to any salad. Chicken $2.95 Steak $3.95 Shrimp $4.50 Salmon $4.50
$

8.95
House Salad
Mixed greens, red onion, roasted red & yellow pepper with egg. Choice of dressing
$

8.95
Caesar
Romaine, croutons, shredded parmesan, caesar dressing
$

10.95
Cobb
Colby-jack cheese, bermuda onion, tomato, hard boiled eggs, bacon avocado, black olives, crumbled bleu cheese & romaine lettuce
$

14.95
Seafood Cobb
Shrimp & crab meat on top of our Cobb salad
$

11.95
Shrimp & Asparagus
Steamed shrimp, asparagus, tomatoes, roasted pepper, fresh mozzarella, field greens
Cup $ 3.50
Soup of the Day
Cup $ 3.50
Cup $ 3.95
Chili
Cup $ 3.95
Sandwiches & Burgers
Served with potato chips & a pickle. Add fries for $.75 or Sweet Potato Fries for $2.50. Make any wrap for an additional $1.00
$

7.50
Southern Fried Chicken
Fried chicken breast, Swiss cheese, apple wood bacon, orange blossom honey or Buffalo Style
$

6.75
Chicken Cheesesteak
Chipped chicken breast, American cheese, ranch, California or Buffalo style
$

6.45
Classic Steak Sandwich
Chipped steak meat, red sauce, pickles, onion
$

7.50
French Dip
Pulled Roast Beef, with au jus
$

9.95
Ribeye Your Way
Ribeye, sauteed spinach, garlic & diced tomato served on Focaccia bread or open face with sauteed mushroom, onion & Provolone cheese
$

8.50
Ringers Turkey Club
Turkey, apple wood bacon, lettuce, tomato, mayo & choice of white, wheat or rye bread
$

16.95
Lobster Roll
Lobster salad on a New England style roll served with old bay fries
$

7.95
Cathy's Favorite
Sliced turkey, applewood bacon, tomato, Swiss cheese, thousand island dressing, grilled rye
$

10.95
Crab Cake Sandwich
Homemade crab cake on a brioche roll with lettuce & tomato
$

7.99
Classic Burger
Lettuce, tomato, onion
$

9.95
Canary Burger
Onion rings, applewood bacon, cheddar cheese, shredded lettuce, thousand island dressing
$

9.95
Viking Burger
Caramelized onion, applewood bacon, cheddar cheese, chipotle BBQ
$

9.95
Salmon Burger
Sun dried tomato aioli & sprouts
$

9.95
Veggie Burger
Grilled vegetable patty, topped with sauteed vegetables choice of cheese & sprouts
$

8.95
Grilled Cajun Style Chicken Sandwich
Lettuce, tomato, onion, pepper jack cheese, ranch & BBQ, Brioche roll
$

9.95
Avocado Steak Wrap
Flank Steak, avocado, tomato, Bermuda onion, bacon, Swiss cheese, spring mix & dijon mustard
$

8.95
Portabella Stack
Goat cheese, fresh rosemary between Portabella mushrooms with spinach & sweet peppers, Brioche Roll with tomato Aioli
$

8.95
Asian Style Pulled Pork
Housed roasted pork, Ciabatta bread, red cabbage
Entrees
Available after 4p / All day on Sundays
$

12.95
Jumbo Lump Crab Cake
with two sides
$23.95 / two crab cakes
RR
$

&10.95
4 Piece Chicken Dinner
4pc. honey dipped chicken, natural cut fries & coleslaw
$

14.95
Flat Iron Steak
Grilled to your liking served over red potato hash choice of soup or salad
$

12.95
Meatloaf
Thick cut, apple wood bacon, brown gravy, two sides
$

16.95
Sirloin Filet
8oz. Filet grilled to perfection topped with truffle butter, steak fries, choice of soup or salad
$

12.95
Baked Mac N Cheese
Five cheese, cream, penne pasta, topped with crunchy butter crumb toppings, stewed tomatoes
$

14.95
Sizzling Fajitas
Steak or chicken, peppers, onions, four tortillas
Shrimp $15.95/ Combo $16.95 (any two)
$

14.95
Fish n Chips
Beer battered, deep fried, natural cut fries & coleslaw
$

15.95
Chicken & Waffles
Fried chicken over homemade waffles smothered with country gravy. Choice of soup or salad.
$

14.95
Stir Fry
Seasonal veggies, garlic, plum teriyaki sauce, cashews, jasmine rice
Add Chicken $2.95 Steak $3.50 Shrimp $4.50
$

17.95
Salmon with Avocado Salsa
Grilled fresh salmon topped with house-made avocado, over jasmine rice. Choice of soup or salad
$

15.95
Chicken Penne
Pan fried chicken, sun-dried tomatoes, mushrooms, pesto cream sauce with toast points. Choice of soup or salad
$

2.95
Vegetable of the Day
$

2.95
Garlic Smashed Red Skin Potatoes
$

4.95
Sweet Potato French Fries
RR- Ringers Roost Guest Favorite
Consuming raw or uncooked meats, poultry, seafood or eggs may increase your risk of foodborne illness
Reservations
Having a party or want food to go?
Call 610.437.4941, Mon thru Sa 11a – 2a or Sun 11a-12a.